vol. 3, issue 1: boob tube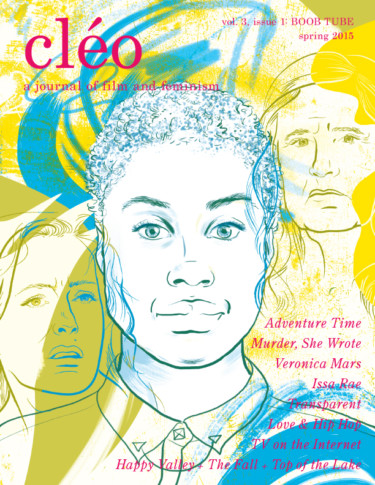 Say what you will about its "status" as an art form, or its effect on our eyes and morals, there's no denying the television that graces our screens and eats up our bandwidth these days is good. It's really good. It's so good we are dedicating an entire issue to it. Riffing off of television's early rebuffs by social critics and moralists of the 1960s, we lovingly christen this seventh issue of cléo "Boob Tube."
To be sure, pretentious and misguided TV criticism still abounds—look no further than the New York Times and their asinine assessment of Shonda Rimes (creator of Grey's Anatomy, Scandal, and How to Get Away With Murder) as an "angry black woman." But as Linda Williams' new book-length feminist reading of The Wire attests, it's not all bad either. What we want to focus on is the ways in which questions of race, queer identity, class tensions, and feminism are being tested and explored on the smaller screen. Think of the wonderful Transparent, a show starring Jeffrey Tambor as a transwoman coming out to her grown children (made by the newly minted Amazon Studios). Or the excellent web series High Maintenance and Broad City, both of which cast off the constraints of season-long story arcs in favour of funny and gripping character snapshots.
Of course, there's also Netflix, which has entangled us in the lives of the women of Litchfield Penitentiary and Frank and Claire Underwood—and reunited us with all seven seasons of
Gilmore Girls. From new ways to watch the tube, to even newer means of its production, we've got plenty of ground to cover.
Cover Image: Lola Landekic is an illustrator, designer, and editor based in Toronto. Her work appears in newspapers, magazines, books, and on her website, landekic.com.