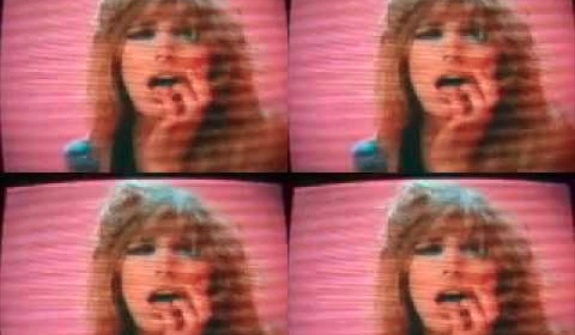 A pretty young thing comes to the big city to make it. It's the stuff of countless Hollywood films, and the narrative structure of Portfolio, a 1983 direct-to-video fictionalized documentary described as a "sizzling exposé of the inside world of modeling." The film—which stars a cornucopia of contemporary supermodels, with guest appearances by well-known photographers and a cameo by Andy Warhol— is hardly a masterwork. The director, Robert Guralnick, is more interested in creating a document of glamour than in reinventing film form. As a time capsule of camp fashion in all of its costume-like, bright-coloured glory, Portfolio is near perfect. Contrary to the sensationalist tagline, the film is not really an exposé of the fashion industry, but rather an oddly affecting collection of some of the over the top images the business has produced. Portfolio embraces the artifice that's often used to dismiss fashion.
The world of Portfolio centres on Julie Wolfe (all the models play themselves), a new face who rises through the fashion ranks, with a remarkable lack of drama and backstabbing. Her new life with Elite Model management sees her whirl across Europe, from photo shoot to photo shoot, from parties to fashion shows. As her last gig was as a cashier at a Long Island grocery store, it's clear that the glamour that awaits her as a model will prove to be some kind of spectacle—for her and for us. Portfolio is interested in using the inherently artificial setup of photo shoots to transport us into a fantasy world, which the models bring to life.
One of the first things Julie has to do as a model (of course) is lose some weight from her already slender frame. Here, the film rejects harsh realism in favour of a montage model of escapism: an aerobic dance class scene. This spandex interlude is the first of the film's many long segments that eschew dialogue in favour of lithe bodies moving to infectious songs.
There is so much to ogle: a sea of model legs, clad in legwarmers and leotards as far as the eye can see. The synchronized motions of all the legs and the variety of pastel colours suggest Hollywood studio-era director/choreographer Busby Berkeley by way of 1980s illustrator of Playboy babes and Duran Duran's Rio, Patrick Nagel. The girls crowd the screen, the sheen of their lycra-ed legs forming a rising and falling chorus line that is scored by the high-energy sounds of Toni Basil and Rocky Burnette. Every girl is slightly different—a blonde here, a brunette there, striped leggings on one, solids on another—yet cut from the same tall, slim, white cloth, and moving in the same pleasing rhythm. Like Nagel's women, they are colourful pinups vamping against an uncluttered background. The dance studio becomes a stage, as the camera quickly cuts from one group of kinetic bodies to another. It's simultaneously goofy and titillating: the narrative gives way to a geometric spectacle of symmetrical bodies, with intermittent cuts to close-ups of the models—their legs and bottoms for objectification, and their faces, smiling. Berkeley's women are beautiful cogs in a machine, creating a kaleidoscopic spectacle. The girls of Portfolio look like they're having fun.
Think of all the behind-the-scenes moments in Bob Fosse's All That Jazz (1979), with the perfectly sinuous movement and pleasing array of colours, the composition practically bursting with sexy motion and entwined limbs. Portfolio's dance aerobic scenes exist in this tradition of performance and draw on Hollywood's golden age of escapism, yet they counterbalance it with a slight silliness, a sense of holding our attention with female pulchritude and '80s pop, rather than mastery of movement. This is Portfolio's aesthetic: you are a fly-on-the-wall in the dressing rooms of Reagan-era fantasy, a world where fashion is fixated on garishness, and all the scenes run a bit too long, giving us time to fantasize about shoulder pads and champagne being sipped in nightclubs. It's all about looking, marvelling at the idealized bodies—the spandex spectacles.
There's a sororal energy to the film, echoing Susan Sontag's definition of camp as a "tender feeling." The models aren't catty drama queens. They support one another, and giggle together, which makes the dynamic of their photo shoots—gazes of sexy boredom, pouting mouths, languid bodies—all the more inviting. The world of fashion doesn't usually let us in, but Portfolio does. Much of the conversation is charming in its downright banality—no glamour, drugs or threats of not getting out of bed for less than $10,000 a day. As the film's title card cheekily tells us, "The characters are real people portraying themselves. Any similarities to actual persons living or dead is purely intentional."
The final fashion show montage in Portfolio feels like a victory run. The models help each other get ready and walk the runway looking, yes, fierce. But then, in between outfit changes, they smile. From avant-garde Japanese ensembles to shoulder-padded power drag, the models flaunt camp costumes with moves they learned from watching one another. The fashion world is no stranger to mockery, and Portfolio has a sense of humour about itself: one outdoor photo shoot on a cold day involves lingerie, umbrellas, and a horse. The runway show similarly verges on the ridiculous. Again, it runs long, and where does one actually wear a multicoloured, wide-shouldered Issey Miyake jumpsuit anyway? Ready-to-wear where? But the models are well aware of the fundamental strangeness of their position. We see Julie learn that being a professional mannequin is the ultimate camp profession, fun but a little uncanny. As she says in voiceover, while frolicking through a European fountain with supermodel Carol Alt, "You can't take it too seriously when people constantly tell you you're beautiful."