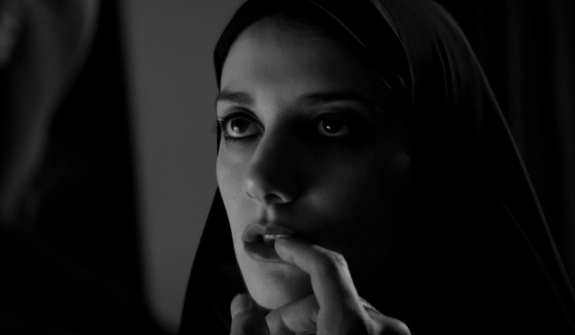 Like the vampiric figure simply known as "The Girl" in her 2014 feature A Girl Walks Home Alone at Night, Ana Lily Amirpour commands and complicates spaces often more comfortably occupied by men. Described by Amirpour as an "Iranian vampire spaghetti western," her debut film is an impressive mash-up of genre and sensibilities that would not be out of place alongside the oeuvres of Quentin Tarantino, Robert Rodriguez, or David Lynch.
Born in Margate, England, she and her family relocated to Miami before finally settling down in Bakersfield, California. After going to art school in San Francisco and film school at UCLA, Amirpour was accepted to the Berlinale Talent Campus where she decided against the Hollywood route in order to pursue independent production. From the girl vs. frog tension of Six and a Half (2009), to the female body hair politics of Pashmaloo (2011), to the irreverent stop-motion cockroach epic A Little Suicide (2012), her collection of short films reveals an irreverent sense of humour combined with astute gender commentary.
 A Girl Walks Home Alone At Night, adapted from her 2011 short film of the same name, is a stylish black-and-white horror flick set in a fictional Iranian town called Bad City (with her hometown of Bakersfield standing in for Iran). The Girl (Sheila Vand) stalks—and skateboards—the streets, feeding on men who misbehave and meting out punishment that is based on her own blackly comic sense of justice. A chance meeting with a handsome stranger (a James Dean-esque Arash Marandi) throws her for a loop, but the burgeoning romance isn't quite enough to quell her thirst for the blood of bad guys.
Amirpour resists any explicitly political readings of her films. As she lamented to Empire Magazine in the run-up to the wide-release of her vampire western, "you can't be Iranian and fart without it being interpreted. If you pass gas, it is political." But despite her protestations, A Girl Walks Home Alone at Night (in title alone!) contains a very sharp take on the ways women move through public spaces. The Girl's unflinching eye-contact and commanding chador-clad physical presence is unwavering. Her unnerving demeanour is only tempered by the fact that she is in situations that usually demand that women make themselves as invisible as possible. Hers is an often comic and sometimes violent act of taking back the night, set to a killer soundtrack. A slow-motion setpiece built around White Lies' "Death" is a memorable highlight.
Her hotly anticipated sophomore effort The Bad Batch, an English-language feature set to star Keanu Reeves and Jason Momoa, promises to be another bravura take on a classic horror conceit: a cannibal community. In an interview with Filmmaker Magazine in 2014, she described it as "Road Warrior meets Pretty in Pink." If Amirpour's previous storytelling instincts are any indication, it's likely that The Bad Batch will approach the question of who eats and who is eaten with a sly mirth that dissolves the gender tropes we've come to recognize in the genre. That's both a threat and a promise.