In an opening scene of Shanghai Express (1932), a pinch-faced boarding house owner lectures two of her lodgers, a pair of courtesans named Hui Fei (Anna May Wong) and Shanghai Lily (Marlene Deitrich), about respectability. Appalled by Lily's sauciness, the mistress of the house, Mrs. Haggarty (Louise Closer Hale), asks of Hui Fei: "I'm sure you're very respectable, madam?" Hui Fei retorts: "I must confess I don't know the standard of respectability that you demand in your boarding house, Mrs. Haggarty."
Wong's turn as Hui Fei exemplifies the risk-taking and audacious actor at her best. In Shanghai Express, with her signature blunt-cut bangs and steely gaze, she holds her own, upstaging the two white actors in the scene, and forcing the audience to acknowledge Hui Fei as a force to be reckoned with, despite her supposedly dishonourable profession—and the colour of her skin. Prior to Shanghai Express, Wong played more than her fair share of derogatory and insulting caricatures, typecast as either a tragic and self-sacrificing Lotus Blossom or a scheming and deceitful Dragon Lady. Hui Fei was still the stereotypical woman-of-colour best friend character supporting the white lead, but unlike Wong's previous roles, Hui Fei's story doesn't end in tragedy. She doesn't die or pathetically pine after someone she cannot be with. Instead, Hui Fei walks off strong (and $20,000 richer) at the end of Shanghai Express—an ambitious thread that's mirrored in Wong's film career.
Wong was a third-generation Chinese American, born Wong Liu Tsong in 1905, in Los Angeles to laundryman Wong Sam Sing and his wife Lee Gon Toy. She knew from a young age she wanted to be an actor and went against her father's wishes in pursuing her dreams. Her career began at 14, as an extra in Alla Nazimova's silent film The Red Lantern (1919). She had it all: impeccable style, glamour, beauty and famous friends. She palled around with Greta Garbo, Leni Riefenstahl, Walter Benjamin, Douglas Fairbanks and more. And as one of the few actors who successfully crossed over from silent films to talkies, she starred in over 50 films between 1919 and 1960.
Yet, this neat history wasn't so easily written for Wong. In Chinese, the word for risk is constructed from two words: danger and opportunity, and the outcome of risk is either reward or loss. In Wong's pursuit of her acting dreams, she knew she would have to face both sides of the coin. Wong was working—in a highly visible profession—at a time when there were laws like the Chinese Exclusion Act, which banned Chinese labourer immigration (created in 1882, it was only repealed in 1943). This was a climate of "Yellow Peril," and images of "dangerous Chinamen" populated American pop culture. In Hollywood specifically, anti-miscegenation laws ensured that Wong would never be able to secure leading parts, as they prevented her from kissing an actor of another race, even if it was a white actor playing an Asian character. Wong also knew that audiences and the film industry wouldn't accept or understand her hybrid identity as an Asian American woman, saying in an interview that she often felt like she was "between two worlds."[i] In The China Mystique, author Karen J. Leong examines Hollywood's practice of yellowface and the performance of Asianness, and the infuriating limitations placed on Asian actors. Quoted from her 1939 Movie Classics interview, Wong said, "I am really Chinese, so I must always die in the movies, so that the white girl with the yellow hair may get the man."
Discouraged by the constant typecasting and being passed over for lead Asian roles in favour of non-Asian actresses, Wong packed up her bags in 1928 and headed to Europe in search of greater prospects. Like other transnational artists of the time (Josephine Baker and Paul Robeson, among others), it was an attempt to cross physical, political and racial borders. It was a bold, risky move—but it paid off.
Across the Atlantic, Wong became a sensation, appearing in plays and cabaret acts as well as making several films in Germany and England. Since she was not European, Wong was able to present herself as both Asian and American overseas. The European press prided itself as more cultured than Americans and seemed keener to embrace Wong, although it is likely that Europe had its own form of exoticization. Of her time in Europe, Wong said in a 1931 Motion Pictures interview titled "Famous Oriental Stars Return to the Screen," she found "absolutely no prejudice in Europe," adding that everyone there was lovely to her. Her last silent film, Piccadilly (1929), caused quite the sensation in Britain; her "scantily-clad" Shosho tantalized viewers and critics, and Variety magazine noted that Wong stole Piccadilly from the top-billed actress Gilda Gray. Always the consummate professional and master PR person, Wong charmed the presses, gracing magazine covers, conducting numerous interviews, dining and dancing cheek to cheek with the European cultural elite. Her European adventure proved successful; like a jealous ex-lover seeing Wong with a new romance, America wanted her back.
When she returned to American soil two years later in 1930, Wong starred on Broadway and cabaret shows, eager to move further away from the typecast roles she played before Europe. With the promise of appearing in a Josef von Sternberg film, Wong accepted one last stereotypical role as Princess Ling Moy, Fu Manchu's vengeful daughter who stands in the way of the white lead and his true love in Daughter of the Dragon (1931). After that role, she acted in Shanghai Express, arguably one of her best performances. Aside from her usual impressive costumes, Wong's expressive face shone under the German expressionist lighting of the film. Her role as a woman who suffers indignities and survives with grace and strength radiates, even if she was a minor character.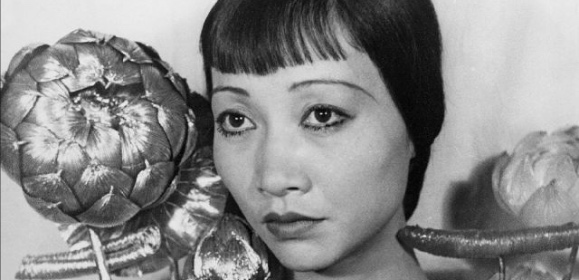 By the mid-1930s, America's growing sympathy for China in its struggles against Japanese imperialism had improved the characterization of Chinese people in U.S. films, but did little in terms of providing breaks for Asian-American actors. Wong had been living in Britain since 1932, fed up with being passed over for lead roles that ultimately went to white actors in yellowface, but returned to the U.S. in 1935 with the goal of obtaining the lead role of O-Lan in the film adaptation of Pearl S. Buck's The Good Earth. MGM cast white actor Paul Muni as O-Lan's husband, the peasant farmer Wang Lung, and since Wong would not have been able to kiss her on-screen husband, she yet again had to watch as one of the most high profile Chinese characters in U.S. film was played by a white actress in yellowface; German actress Luise Rainer was cast as O-Lan and went on to win Best Supporting Actress for the role. This omission caused a minor scandal in Tinseltown and was considered Wong's greatest career disappointment.
After losing the role, Wong once again packed up her bags in 1936 and went on a yearlong tour of China. Her brothers and father had already relocated to China and Wong had high hopes of studying Chinese theatre, Mandarin, and Peking Opera. But unlike during her European tour, Wong faced mixed reception in China. The Chinese Nationalist government and media had been unhappy with her unsympathetic and embarrassing portrayals of Chinese people, calling her a stooge that disgraced China. Wong was a prolific writer, penning articles in American and international fan magazines and letters as well giving interviews where she was candid about her grievances with Hollywood. In response to criticism from the Chinese public, she said in an interview for Hollywood Magazine in 1938: "I told them that when a person is trying to get established in a profession, he can't choose parts. He has to take what is offered. I said I had come to China to learn, and that I hoped I would be able to interpret our country in a better light." Once again, Wong found herself having to defend her hybridity. She was considered not Chinese enough for China and not American enough for America.
Upon her return from China, Wong acted in several B-movies. She said in interviews and in her articles that she wanted to paint Chinese people accurately and vowed to only take sympathetic roles from then on. But with World War II looming, roles dried up and between 1939 and 1942, she made few films, instead focusing on political and charity work in support of the Chinese struggle against Japan. Wong eventually transitioned to TV and radio, even starring in a short-lived 1951 TV series called The Gallery of Madame Liu-Tsong where she played an art gallery owner who also solved crimes. Wong was slated to play Madame Liang in Flower Drum Song but died of a heart attack on February 3, 1961. She was 56.
The shame of Wong's career was not so much the roles she accepted but Hollywood's squandering of her talent. She could act and dance; had Hollywood allowed it, she could have soared to great heights. Instead studios clipped her wings and kept her caged, a practice not uncommon for non-white actors, then and now. It is pitiful to realize that in the century since Wong first appeared on the silver screen, good roles for people of colour and their depictions onscreen remain widely publicized problems. Wong and many actors of colour throughout Hollywood's existence have been relegated to marginal and "ethnic" roles, while white actors continue to enjoy unprecedented freedom to cross racial lines. In Anna May Wong's time, white actors in yellowface were praised as skillful performers for embodying a character so different from themselves, while non-white actors were rarely seen as separate from the characters they played.
The shame of Wong's career was not so much the roles she accepted but Hollywood's squandering of her talent.
Understanding Wong's legacy is necessary to understand the history of Hollywood. She was marginalized during her life, but critics and film historians today consider her a true original. The gatekeepers of Hollywood tried to keep her contained, but she persisted, advocating for herself and seeking a career under her own terms. She was glamorous, striking and cosmopolitan. These qualities propelled her to become one of the first Asian American faces on the big screen, with Asians and non-Asians copping her style and mannerisms.
Along with her independent streak, Anna May Wong had the audacity to envision herself in a place where no one looked like her. She also had the courage to speak openly about the barriers she faced, and wore her hybrid identity proudly during a time of fraught racial politics in the United States. In addition to her body of work, her attitude made her a true risk-taker.