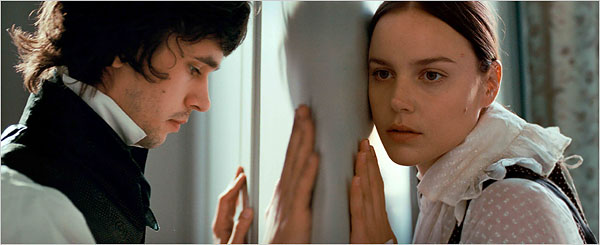 "Poetry should surprise by a fine excess…and appear almost a remembrance," the English Romantic poet John Keats wrote to his publisher John Taylor in February 1818, three years before Keats' death at 25 from tuberculosis, when he still believed he had not written a single immortal thing to make his friends proud. That fall, Keats would meet his future neighbour and the last love of his life, Fanny Brawne. Keats and Brawne's consuming, too-short romance is the subject of Jane Campion's Bright Star (2009), and "a fine excess" are exactly the words to describe the director's approach to sets, costumes, and production. I mean "fine" as in lace is fine, or the tip of a needle point is fine. Both show up in extreme focus in the opening shots of Bright Star — the first utterance of the visual vocabulary that will tell a story of love and loss.
Campion's films revolve around complex psychological situations. In The Piano (1993), a mute pianist's illicit sexual awakening takes place in a colonial gothic jungle. In her adaptation of Henry James's The Portrait of a Lady (1996), the wide-eyed heiress Isabel Archer (Nicole Kidman) navigates a course of terror in the choice between four suitors, marriage and independence. In Bright Star (2009), Keats (Ben Whishaw) and Fanny's (Abbie Cornish) cosmic romance is set against pragmatic reality. Campion's critics may complain that her work reduces these stories to their essential melodrama, but the finesse and density of their emotional intensity outgrow their narrative seeds and become cinematic subjects in themselves.
Campion's critics may complain that her work reduces these stories to their essential melodrama, but the finesse and density of their emotional intensity outgrow their narrative seeds and become cinematic subjects in themselves.
In the introduction to Touching Feeling, Eve Kosofsky Sedgwick observes:
To perceive texture is to know or hypothesize whether a thing will be easy or hard, safe or dangerous to grasp, to stack, to fold…even more immediately than other perceptual systems, it seems, the sense of touch makes nonsense out of any dualistic understanding of agency and passitivity; to touch is always already to reach out, to fondle, to heft, to tap, or to enfold, and always also to understand other people or natural forces as having effectually done so before oneself, if only in the making of the textured object.[i]
In this light, touch and texture in Campion's films fill the liminal space between action and affect with meaning like a kind of white noise. It's not that Campion is averse to speech, but her filmmaking reflects a way of experiencing the world that understands the verbal, the visual and the tactile at a material and emotional level. When Campion said to Interview Magazine that the density of her scenes is "part of being interested in notions of reality apart from storytelling,"[ii] what she is showing is sensual experiences as the texture of reality.
In her films, Campion reminds us of what hands do: they clasp, they rub, they catch, they soothe, they kill, they possess, they hurt, they hold, they remember. One effect of touch in Campion's films is it becomes a bubble level that tests the grounds of knowledge shared between characters and knowledge shared between the audience and the characters. In her breakout feature The Piano, hands all but literally speak.
In her films, Campion reminds us of what hands do: they clasp, they rub, they catch, they soothe, they kill, they possess, they hurt, they hold, they remember.
In The Piano, Ada (played by the unflinching Holly Hunter) has not spoken since age six. While she is able to communicate by sign language or by writing, it is her piano playing that stands in for her expressive power—even when the piano has been left behind on the beachhead and she makes do with etching the keys on a table. (In fact, sign language had not been standardized to ASL or BSL in the 1850s and the film's production team made up a sign language for Hunter based on what she could learn quickly and on which movements looked good with her hands.) Ada's daughter Flora (Anna Paquin), the sole interpreter of Ada's hand language, divides the community into those who can communicate with Ada and those who fail, a power that is later usurped by their neighbour, Blaines (Harvey Keitel). Taken by Ada's beauty, Blaines, a stocky British whaler with a half-assed Maori face tattoo, proposes to trade Ada's mercantile husband a plot of viable land for Ada's piano. The piano gives Blaines the currency to bargain with Ada: one piano key for one piano lesson. Only the black keys, Ada counters.
One afternoon, inside a musty cabin in the middle of the lush kauri forest, Blaines leans into the arm of his day bed as he watches Ada play. "Lift your skirt," he says. Soon, he is crawling under the piano, demanding "higher" and "higher" with the brute impatience of a car mechanic. The layers of her dress fill the frame and her crinoline rises as if it is a cage. Blaine eases his head onto the floor. Suddenly, it seems as if it is Blaines's speech that is stunted and he is left with the syncopated reality of flesh out of sync with language. His arm reaches out and finds a tiny rip on Ada's black wool stocking a few inch below the knee. We see it, too, now in a close-up. Blaines' calloused, dirt-rimmed index finger slides towards the opening and begins to rub the patch of pale, bare skin where it meets the ripped seam. Ada's playing falters for a second. The camera holds its breath for another 10.
Blaines' explorative, adolescent touch punctures the hegemony of the colonizing violence of guns, axes, and expectations of Ada's husband and the rest of the colonial community. That community treats Ada as an invalid at best and an untamed woman at worst. It is Blaines' desire for Ada that eventually pushes Ada's conflicting sexual desires to surface. The textural climax of finger encircling flesh between fabric leaves a residue that permeates the rest of the film like sex changes the smell of a room. We do not see Ada's reaction and instead only hear the playing continue, but we know something in Ada's new life has been upset in her hesitation at the keys. As Ada's own power and desire grows, so does the rupture between her conflicting responses of self-preservation and self-destruction. Ada's lush interior life becomes the reality dramatized onscreen throughout the rest of the film.
The Portrait of a Lady follows a similar hypnotic impulse. The title card is inked on the palm side of a middle finger, which we read as the soft, flat hand glides across the screen, like a hand closing our eyelids. Throughout the film, there is a remarkable amount of rubbing, stroking, clutching and kneading that passes between the characters — except for Isabel. Her face, cast in a pallid, porcelain light, shares the same cold self-containment of Ada's face in The Piano. But where Ada quivers, Isabel hardens into a pathological reflex against intimacy and pleasure—a human "do not touch" sign.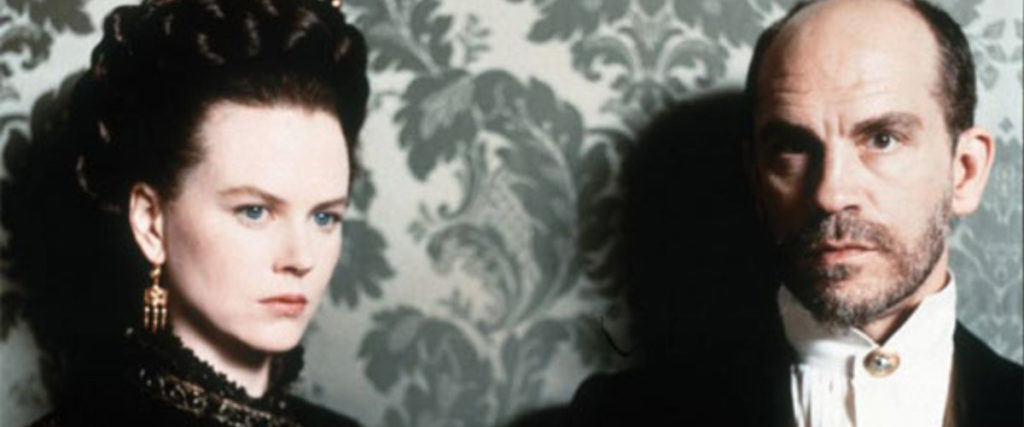 In an early meeting between Isabel and her future husband Gilbert Osmond (John Malkovich), Isabel, poised and curious, listens to him on his upholstered sofa. All the while, it is hard not to mentally squirm for Isabel as Osmond possessively strokes the hand of his teenage daughter Pansy (Valentina Cervi), who is sitting on his lap. This instance of discomfort, along with the rest of Osmond's courtship that centres mostly in his darkened wunderkammer, foreshadows Osmond's misguided idealization of women, which will imprison Isabel after marriage. For the audience, the central mystery is: why does Isabel marry Osmond? But for Isabel, the questions are: what is independence and what kind of independence can she afford? Isabel's avoidance of physical intimacy is the most visible manifestation of a subconscious protectionism, as she negotiates the boundaries between selfhood and communal obligations among a circle of friends, family and acquaintances, each of whom have lurking self-interest in their stance on Isabel's marriage.
In this fugue state between being physically alone and in imaginary company, Isabel comes closest to actualizing the satisfaction of independence.
It is the pesky American, Caspar Goodwood (Viggo Mortensen), who comes closest to affecting Isabel in the flesh. At the end of an unsolicited meeting in Isabel's hotel room, Caspar brushes Isabel's chin briefly. The contact turns into arousal after she makes him leave, and we see Isabel putting her own fingers to her face where Caspar has just touched. An ominous, whirring melody swells from what seems like beyond the Florentine yellow wallpaper. Isabel's forehead lingers at the thick tassels that hang from the roof of her bed frame. Renu Bora, in "Outing Texture," writes that "the very meaning of softness… is dependent on the dusty approach of a surface towards disintegration, a powdery departure from a plane."[iii] The erotic dream that follows this moment, about Caspar, Isabel's cousin Ralph, and Lord Warburton (whose marriage proposal she has rejected), is Isabel's most glaring departure from reality. We catch Isabel at her most unguarded—the usual tension on her face shifts from one of detachment to a longing for a secret knowledge, then seduction, submission, and ultimately, stupefaction. In this fugue state between being physically alone and in imaginary company, Isabel comes closest to actualizing the satisfaction of independence. It registers as the anti-climactic symbol of what she circles around without ever quite reaching the centre, once the illusion ends.
The fantasy ends as soon as Isabel hears "I love you" from one of the men. She sits up. They fade away. Campion's interpretation of the Jamesian tragedy crystallizes in this dance between touching and not-reaching, agency and mercy. We see the complementary choreography to Isabel's fantasy in Osmond's grand, sinister flirtation in the basement gallery a few scenes later. Her fear, in response to his declaration of love as he teases with her parasol, splices her future in half.
In Bright Star, another one of Campion's iconic scenes canonizes a searing image of yearning when Keats and Fanny bring their palms to either side of the wall separating their rooms. Like natural scientists, we follow the crumbs of their heartthrob as the moment swells to its immense tenderness: Keats and Fanny listening for each other's movements in the house, the seismographic search for each other behind the wall by knocking and tapping, Keats dragging his bed to the side of his room adjacent to Fanny's. Outside, May flowers flutter in the wind.
Later, as Keats becomes sick and quarantined in his room, their wall-tapping ritual returns. It seems ironic that Bright Star, the most classically romantic of Campion's major films, is about a poet, while the rest of the film is an arsenal of arguments against the value of words where love is concerned. When Fanny and Keats fall in love, the acts of looking, gifting, touching, smelling, and listening are all better than talking. These tactile expressions are more concrete, more perceptible, more evident for the lovers and for the audience. When Fanny embroiders a pillowcase for Keats after his brother's death and Keats kisses it, it is not the care or the labour that load the gesture with affection (despite the obvious reason for the phrase "labour of love"), but the intensity of desire in the transfer between hands, lips, linen. In the synchrony of a speechless look and in the flowers quietly brought to the door after a fight, the space between Keats and Fanny fills up with these gestures. Every move becomes like a word in a poem, irreducible and irrevocable in its affirmation of their bond. It is the entropy that makes Bright Star (in a friend's words) "the hottest film where nobody fucks," and where nobody says, "I love you" to each other, either.
By reconfiguring the locus of eroticism to the perception of texture, which accompanies living everywhere, Campion expands the limits of depicting the erotic and the sensual on-screen beyond sex and dialogue. Campion has said as much in an interview with Roger Ebert about The Piano: "I was trying to re-examine what erotic is. To see if you can create it in a half-centimetre square flesh."[iv] Closer to love, too, if we believe in bell hooks' final say on the subject: "The word 'love' is most often defined as a noun, yet… we would all love better if we used it as a verb."[v] Campion's films recollect the verb "love" and its synonymity with purpose. What's not to love. What's not to touch.