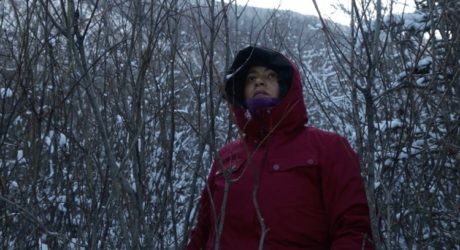 Black Women Film! Canada is a leadership program and collective dedicated to forwarding the careers, networks and skills of filmmakers and media artists who are Black female-identified. Based in Toronto, the program was founded by Ella Cooper: artist, filmmaker, educator, and community organizer. As evidenced by her leadership of BWF!, Ella has an ingenuity that permeates her work: confronting homogenous depictions of Canadian cultural identity and reclaiming landscapes through a lens of embodied elated resistance. 
cléo spoke with Ella about her craft, activism, and programming for TIFF's Black Star series.
How did your own experiences working as an artist and filmmaker in Canada inform your decision to start Black Women Film! Canada?

I moved to Toronto to study new media and film at Ryerson and when I graduated I initially took a stab at working in film and television. I found that it was similar to my university experience where film was very boys' club-y. I started to do Media Arts programs within the community and for marginalized youth, and really facilitating other people making their own films from their own personal voice. At the same time, I started to find my own voice in photography and video. Then it hit me that while I was really enjoying facilitating these programs, I also wanted to step forward and start making my own films. When I had first graduated and walked into the industry, I didn't feel like that was even an option that was being offered to me. I saw a lot of younger white men just going for it and receiving a lot of opportunities, but it just never seemed available to me. I didn't really overthink it and I started making work and got support from people like Regent Park Film Festival, Ontario Arts Council, and Canada Council.

How Black Women Film! Canada came to be was actually through a number of projects, both creative and community-based, where I was looking at what it means to reclaim our image, our bodies within these very dominant media spaces and to celebrate our own voices. I wanted to create a program that was really reaching professional artists and filmmakers — where we could support each other, but also really have the industry step up to support us and give us access.

You've set up BWF! Canada as a collective – creating a network of emerging and established Black women filmmakers into which new participants enter every year. Can you speak to why community, and community building, matters to you?

It's been a little bit of an "if you build it they will come" experience. I would never have realized how popular Black Women Film! Canada was going to get in such a short period of time, but I realized that its birth is very timely. When I gathered together 40 Black women filmmakers, both established and emerging, in one space and we took that photograph, it was actually quite a historic feeling. And I would say the reason for that is because nobody thinks that there are that many Black women making content for film and media. The name is not a grammatical error: it's saying Black Women Film! It's a statement. It's not Black Women in film, it's Black Women Film! It's an action — that we make films — but it's also a call to action. 

While I have created this collective and this program, I'm now kind of watching how it's evolving, and I think what I've realized is that we're a catalyst: what we're doing is bringing people together. Just the simple act of bringing that many women together in one room has led to new collaborations, new films being made, new jobs for people who are still breaking into the industry, new connections with large industry partners, and also local arts organizations. In the end, the reason I made it is because I believe strongly in community and I think that we all need it to thrive and do the work we're most passionate about.
How has your work with BWF! Canada, and more broadly as an educator and arts facilitator, impacted your own practice as an artist and filmmaker?
When I see what I've been envisioning come together and I see what's happening in the room and the power of it and the way that it motivates me. I'm like: "I cannot stop. I have to continue." As an artist, I would say that it just keeps on reminding me that I do have what it takes to create the work that I wanna see out there in the world. I think that we get so caught up in our lives that when you don't have those moments to pause you can feel like: "Are my ideas important? Is it really necessary for me to continue?" When I'm around [like-minded] folks, it makes me feel the validity of my work — on both sides of the spectrum of what I do — and then it also inspires me to continue contributing to other narratives that are coming out of Canada right now.
Ten years from now, where do you hope to see Black Women Film! Canada?
I hope Black Women Film! will evolve organically. I've been purposefully shaping it in such a way that it can respond as opposed to being constrained by the typical trajectory that an organization is supposed to take. I would say that, while in one instance I would love to see Black Women Film! Canada still thriving, supporting the development of new work, still having retreats and leadership programs, and gatherings, I also really welcome that maybe this is something that will catch on fire and change people's lives for five years. That something will grow out of that fire.
The thing that I would most want to see ten years from now is that people who met through BWF! Canada continue to work together. It would be such a huge success to show that those connections that were made 10 years ago are still thriving. That there is still a community and that folks aren't necessarily just leaning on us to make it happen, but they're also creating themselves.
You recently programmed for TIFF's upcoming retrospective, Black Star, which celebrates 100 years of Black excellence on screen. Can you speak to that experience, and what you were hoping to achieve in your programming?
I was specifically invited to program the Canadian screenings. When I thought about it, I realized Canada doesn't really have a star system. And when I thought about who are the real stars of cinema in Canada from our Black communities, for me it's the filmmakers, because for a Black person to realize a film in Canada, in this industry, is still a feat. It shows that they had vision. It shows that they have creativity, that they have the ability to realize those dreams in this work and against all odds. They made this film, even if there was a struggle to get support to create the work — and even if they were told there wasn't an audience for their work.
Each program has one to two shorts before a feature, as well as some shout-outs to some music video directors, because when we look at stardom in Canada, it really is some of our hip-hop artists that have put Canada on the map, Drake being an obvious person, Maestro Fresh Wes, folks like that. I wanted to give a nod to hip-hop, but still focus on the filmmakers themselves.
People will find that what they get to see in that program is a range of really playful, fun features and then really poignant documentary work, and overall a really cool kind of reflection of the Black experience in Canada today told through our highly established filmmakers like Sylvia Hamilton, Jennifer Hodge, Claire Prieto, Clement Virgo, Director X, Sudz Sutherland, Jennifer Holness, Alison Duke. And then also people who are now becoming really known names like Charles Officer, and then lesser-known people like Karen Chapman and Nadine Valcin, and Lori Townshend.
This text has been edited and condensed for length.
Originally published November 3, 2017