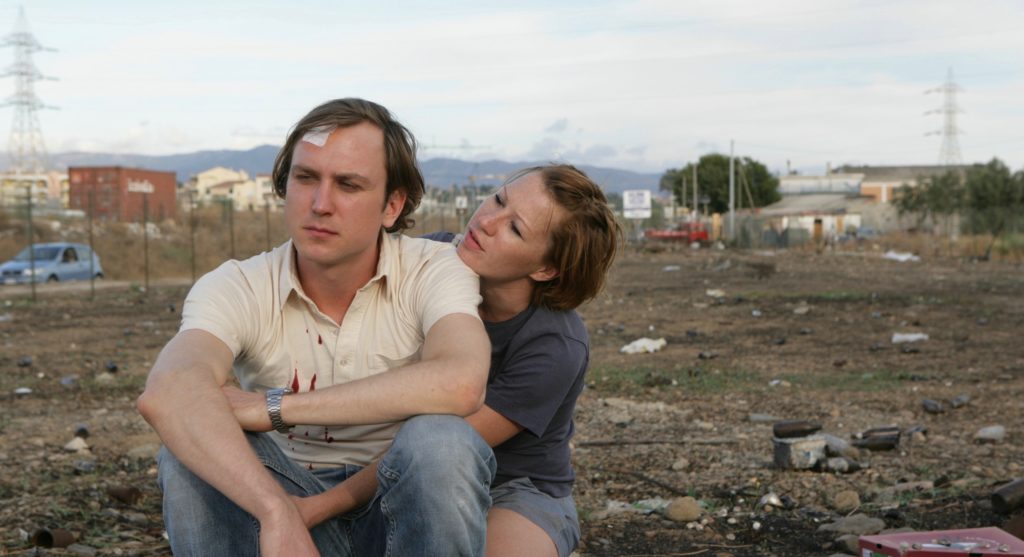 This May, the Goethe-Institut Toronto is presenting the series Past Forward: Directors Before Cannes, a celebration of early works by major contemporary German filmmakers Maren Ade, Valeska Grisebach, and Ulrich Köhler. Screening at the TIFF Bell Lightbox, the series includes features and rare short films made before the directors' international success at the Cannes Film Festival.
The program begins on Tuesday, May 7th with Ade's 2009 film Everyone Else (Alle Anderen) (click here for details). Below, writer Esmé Hogeveen unpacks the film's humorously insightful and acutely uncomfortable exploration of human relationships.
There are several moments in Maren Ade's Everyone Else (2009) when the audience shifts from cringing to experiencing profound psychic exfoliation. While the German director's ability to render interpersonal tension has been widely recognized since the global success of Toni Erdmann (2016), Everyone Else (Alle Anderen in German) offers an intriguing vantage point to interpret Ade's droll vision of human dynamics. Screening alongside Summer Without Gitti (2010), a short film Ade made with recut footage from Everyone Else, as part of the Goethe-Institut Toronto's Past Forward: Directors Before Cannes series, Everyone Else reveals Ade's wit in a more standard genre format.
Everyone Else is essentially a rom-com: Chris (Lars Eidinger) and Gitti (Birgit Minichmayr) are lovers on vacation in Sardinia, staying at Chris' parents' luxurious, yet kitschy, summer house. Chris, we come to understand, is an architect between contracts, given to morose brooding and hesitant to affirm his affection. Gitti, on the other hand, is free-spirited, expressive, and wary of Chris' at-times ostentatious posing. The audience senses Gitti, who does PR for a music label, may be a bit cooler than Chris—and perhaps he's aware of this, too. Gitti's certainly more relaxed, though she struggles to mount a convincing gravitas, particularly when the couple encounters Hans (Hans-Jochen Wagner), an older architect (whom Chris is torn between trying to impress and privately mocking), and his pregnant wife Sana (Nicole Marischka).
As in Toni Erdmann, the tone of Everyone Else oscillates between blithe comedy of manners and high-stakes emotional drama. Though in shades less vivid than Toni Erdmann, Everyone Else is likewise spritzed with moments of physical comedy and the absurd. (An early scene where Chris pretends a piece of ginger root is a tiny penis sets up a series of references to "Schnappi.") The humour of Everyone Else ranges from jokes shared by characters to observations to which only the audience is privy. Frequently we watch as social blunders and oversights commingle with wilful misunderstandings, sexism, and snobbery. (Hans and Sana's relationship alone is worth a thousand cringes—the actors perform self-satisfied cultural mobility to a neoliberal T.)
Spending the summer together on an island, Chris and Gitti's motives and insecurities transform as they alternately reveal and conceal parts of themselves. Capturing nuanced shifts between emotions, and the many overlapping impulses and behaviours therein, is where Ade especially shines. In multiple scenes from Everyone Else, Ade focuses the camera on a single character's face, impelling the viewer to witness individuals evaluating one another. Often, Ade's shots elicit horror-tinged empathy. The horror the audience feels is not from something sinister, but rather born of a kind of relatability. We cringe watching Gitti overlook Chris' rudeness, her bald-faced desire to be loved temporarily supplanting an expectation of respect. We also note a concurrent empathy with Chris; Gitti's refusal to play along—to adhere to social norms—in the company of his influential colleague ranges from charmingly authentic to naively infuriating.
Ade's understanding of social dynamics—the ways in which people perform distinctly for different audiences, and, at times, even for different versions of themselves—draws strength from its verisimilitude to life. Summer Without Gitti, which solely features shots of Chris and his interactions with Hans, offers an arena for Ade to play more freely with mood and the absurd. The homosocial aspects of Summer Without Gitti afford a surprisingly thought-provoking counterpoint to the feature. A handful of moments in Everyone Else are genuinely alarming, namely when Chris' desire to impress—essentially to bro down with—Hans eclipses both men's regard for Gitti's and Sana's dignity. Chris wants to be the kind of man who has a quirky girlfriend, but also the kind of dude who's happy to toss said girlfriend into a pool if that's how the other guys are treating women. The exclusively male-character edit of Summer Without Gitti showcases Chris and Hans' affinity via a giddy, alternate lens.
In the end, Ade's contiguous accomplishment is in rendering the comedy inherent to personal relationships without recourse to didactic sincerity or hamming. In a later scene from Everyone Else, Chris and Gitti lie entangled outdoors, having just slept together. Chris is on top and the scene is lit so dimly that when we see Gitti's hand stroking his back, it looks almost as if they're one, multi-limbed creature shuddering and calming itself in the dark. People are, as the protagonists observe throughout the film, absurd, and so too are relationships. Ade successfully shows us how strange it is to try to look clearly upon them.