The summer before I started college, I turned my lifelong passion for indie movies into a full-time job. In an attempt to prep for campus social life, a dear pastime became a chore as I tried to keep up with a white indie film canon that wasn't exactly thrust upon me in my years in the shoddy Los Angeles public school system. I devoted all my time to watching every indie movie under the sun, determined to rock the liberal arts school small talk that I knew I would soon encounter as I found my rightful place among the artistic masses.
Once I arrived on campus I tipsily clutched a solo cup and analyzed Wes Anderson's oeuvre at hazy house parties with the best of 'em, thinking I was cementing my new identity as a film connoisseur. I sashayed through obscure references from Eternal Sunshine of the Spotless Mind with the utmost poise. When my professor turned on Amélie in French class, I could scoff at the philistines who'd managed to go through life completely unaware of it. So sure, despite not having been a film student, I graduated college without ever really fumbling in the indie film trivia category. But something was missing; I became disenchanted with my school, and the movies I had counted on to guide me were falling short as well. I still felt out of place, and it took a happenstance viewing of the 1997 Black romance movie Love Jones on cable one night to make me realize what I'd been searching for.
I'm the daughter of African immigrants and I chose to abandon traditional academia and attend art school. It's a decision I'm forced to reckon with every morning when I wake up to the weight of my parents' sacrifices suffocating me, and the uncertainty of my chosen path in creative work. So when I found Theodore Witcher's Love Jones, an independent film full of people who look like me cast as artists and thinkers, I held on to it for dear life. I didn't feel like I was checking off another item on a list of movies I was supposed to see if I was a "real" movie fan. Instead, it was a moment of private enlightenment.
When I dismissed rigid academia for art school, though, things weren't that different. I was alone in my obsession with Love Jones—no one ever brought it up in conversations about important (or even favourite) films. But I was hardly surprised. Most of my peers didn't look like me and for a great deal of them, I was the first Black person they'd ever befriended. Of course they hadn't seen a sleeper hit about Black love. This was just another example of the way non-Black people continue to ignore our shit and lump all of "Black cinema" together under one homogenized umbrella. I might be biased in the personal nostalgia in which I selfishly douse Witcher's debut film, but it uncovers and studies the nuances attached to being a Black creative so well that it's made countless other viewers emote similar sentiments to my own. While there were several Black indie films floating around prior to Love Jones and a sizable handful to follow it, this was the first to fully consume me as a fledgling film fan and a young Black artist with few role models to show me that a fulfilling creative life was possible.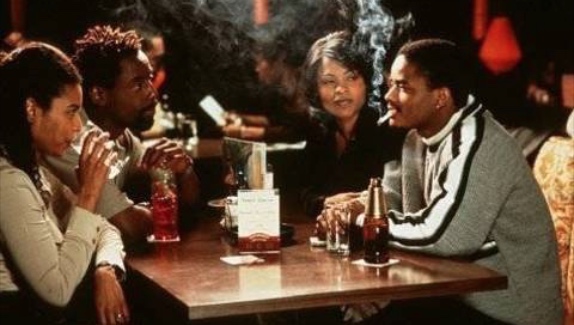 The Sanctuary
The main hang in the world of Love Jones is a hip, shadowy, smoke-filled poetry lounge called The Sanctuary, in Chicago. It's where Darius (Larenz Tate) and Nina (Nia Long) have their meet-cute and where we first see them with their friends. It's where Darius, the brother to the night and aspiring novelist, goes on stage and woos photographer Nina, his sister to the distant, with his swoon-worthy, heart-stopping poem, "A Blues For Nina." At the end of the film, it's where the Sonia Sanchez-loving Nina returns to after a year in New York, sharing her own beautiful piece about remembering love, a year after being apart from Darius. And of course, as perfect cinematic timing would have it, you know homeboy is there to hear it.
I yearned for a place like The Sanctuary. I was weary of trying to make work that my white peers would understand despite them not extending me the same courtesy. I wanted a place where I could go to be surrounded by people like me making stuff for us, by us. As I navigated the whiteness of art school, this film gave me the courage to research and visit POC collectives in my area that offered what The Sanctuary did for Nina and Darius. And in the process, I found myself joining creative communities just like it, sharing my work and basking in the creative glow of my Black friends. At the end of the movie, right outside of The Sanctuary, Nina gets out of her cab and ruins her fresh press in the rain to see about her man. The couple kisses in the rain and decides they'll try to make it work despite the fact that Nina has moved to New York and Darius is still in Chicago. The scene fades to black, Lauryn Hill's "Sweetest Thing" comes on, and I eventually fall asleep on my tear-soaked pillow, reveling in how delightful it is to be in a space where you feel fully yourself.
The Music
This film has a gorgeous soundtrack, and jazz and R&B/soul music is integral to the plot and characters in Love Jones. Darius first manages to finagle his way into Nina's heart when he shows up at her house with the Isley Brothers CD she's desperately searching for—after stealing her address from Sheila (Bernadette L. Clarke). And there's the moment before that, in the record shop, where Darius plays Nina a Charlie Parker ditty she can't recognize—impressing the shit out of her. Or that scene when "Jelly, Jelly" plays, punctuating the desire between the two lovers when Nina forces Darius to sleep on the downstairs couch of the place she's house-sitting.
But of all the songs I now associate with this film, I can't even hear the first few seconds of John Coltrane's "In A Sentimental Mood" without mentally recreating Darius and Nina's slow dance and the stunning montage of them running through the park and being vomitrociously cute together—a picture I'd never seen before. I had spent so long trying to relate to white indie romances set to The Smiths that it was a shock to see this picture of young, carefree Black love. This was a love with me in mind, with a soundtrack that spoke to the life I knew existed but hadn't seen onscreen before Love Jones.
The Friendships
Before Love Jones, an all-Black cast of friends who gather 'round in someone's living room and philosophize about whether or not God is a woman was a foreign concept to me. To see Nina and Darius strolling along the sidewalks of Chicago waxing poetic was just so brand new, and not something I had seen in the indie movies I thought were the be-all, end-all of highbrow, character-driven stories. Certainly, I'd seen my share of Richard Linklater films, but to see the walking-and-talking genre reimagined with Black people was to see the genre fully realized in a way that made me feel understood. It's so refreshing to see a film about Black intellectuals just trying to navigate their way through life as lovers and artists, showing another side of Black life that rarely gets its due.
I could break down all the beautiful relationships in Love Jones for days — this film celebrates Black friendship like no other. The easy, supportive friendship between Nina and Josie (Lisa Nicole Carson) is the reality for most women, but is so rarely shown onscreen. To see two Black women on screen talking in the same way my girlfriends and I talk, using the same mannerisms and the same inflections, was incredibly heartening. When Nina admits to Josie, in the back of a cab, that she slept with Darius on the first date, she's hesitant about spilling the tea at first. But Josie insists that she must live vicariously through Nina's sex life, so Nina gives in. "It was like his dick just—talked to me," Nina says. "What'd it say?" Josie asks with bated breath. "Ninaaaa," Nina whispers before releasing a loud and primal "ooohwheeee!" that sends shivers down every woman's spine (not to mention the cab driver's). "Dayummm. Dayummm," Josie says echoing all of our sentiments.
I could break down all the beautiful relationships in Love Jones for days — this film celebrates Black friendship like no other.
For Darius, it's his boy Savon who listens to his problems and hears his version of the first-date story in a Grease-esque scene that unfolds as each smitten party gives their friend the deets of their lusty evening. Over a game of pool, Darius tells a surprised Savon (Isaiah Washington) that he made Nina breakfast. Savon warns him: "One truism in life: When that jones come down, it be a muthafucka." We do witness Savon's family issues and Darius' pitiful friend Wood (Bill Bellamy) try to swoop in for Nina during her break from Darius, but the melodrama is kept to a minimum, giving the Black viewer a moment of respite from the usual soapy, depressing stories drenched in the moralizing tone that the Black film canon is known for.
The Aesthetic
This movie's cinematography makes me never want to look at anything else ever again. There's this deep blue dusk shot of Nina riding on the back of Darius's motorcycle and they both look so sleek and sexy in their black shades that I forget they're neglecting the first rule of bike safety by not wearing helmets. But y'all, they look so good breaking the rules. The shots of Chicago are a perfect backdrop to the unfolding romance, a love letter to the city in itself. And the fashion! Nia Long in dark brown lipstick, high-waisted jeans, and sans bra will forever be legendary. Darius working on a novel at his typewriter in an old Bulls Jersey, backwards cap, and reading glasses? Drake put it best: nothing was the same. I bow down to Josie's wild curls, Sheila's braids, and Savon's twist-out. I was at the onset of my own natural hair journey when I first saw this film and seeing all of the different hairstyles was reassuring. They were rocking natural hair long before I was brave enough to walk out into a world where my tresses would inevitably be petted by strangers, and I knew if they could do it, I could do it too.
The Love
Love Jones is definitely your typical eye-roll-inducing, hyper-heteronormative love story, but it will always be one of my favourites. It is Black love at its finest. Hell, it is love at its finest. We see Nina and Darius romancin' at the poetry lounge, Nina and Darius bumpin' and grindin' to reggae at the Wild Hare, Nina and Darius steppin' on their first real date, and Nina and Darius talkin' about everything from Mozart to Topcon cameras.
Nina turns on the heater when a thirsty Darius complains that he's cold and she famously asks sultry as ever, "Can you feel the heat?" A disgruntled Darius responds with, "Nah, not yet." And then Nina—who actually might be the thirstier of the two—sighs to herself, "Ooh shit, I can." And sure enough, Darius tiptoes up the stairs and they proceed to make sweet love through the night.
Skeptical of this man who proclaims he's the bruise in her left thigh, hoping to become the funk in her right, Nina asks, "So you're just like, a renaissance Black man—poetry, music, photography?" And when she asks this, I recognize how Larenz Tate so wonderfully portrays a Black man that we don't often see on screen. And even more exciting than that, we see Nia Long play a Black woman who, despite a setback or two, proves that she can make it as an artist and cultivate a relationship with another artist while remaining true to herself. She's sexual and free, but she isn't slut-shamed for dating and exploring her romantic options. The movie isn't bogged down with religious dogma or a mammy figure to tsk tsk at her behavior. Josie doesn't give her flack either. Instead, she says, "Do your thang girl. Do it." And Nina does just that. I was in awe of her and still am. Nina is the bold, body-positive Black woman I've always wanted to be.
"You watch too many movies, Sheila," says Ed (played by baby Leonard Roberts) in the opening scene of Love Jones. That always feels like a personal attack, because yes, I do watch too many movies. But so what? I'm a grown-ass woman and can allocate my free time however I want, Ed! What he fails to see is that sometimes it takes a movie to make you realize what you need and want from a culture that so often renders you invisible. Black indie movies are rare, like hella rare, so snaps to Love Jones for not only existing, but for recognizing the Black artist lifestyle that is seldom explored on screen and for motivating this Black creative to live life on her own terms.