Congratulations! You've made it to spring.
And yes, every day feels like a full decade. And yes, we are all aging six months for every hour. By the end of Trump's presidency, we will all have transformed into our own versions of Old Rose™ in Titanic, but without a young Leonardo DiCaprio to find us a floating door because in 2017 we find our own.
Amidst the anger and fury and sadness and stress, a lot of us are feeling helpless. And helplessness is dangerous because it makes us feel small or it tells us not to bother and it backs us into a corner or locks us into wardrobe trunks and renders us paralyzed as we grapple with what to do and how to do it without collapsing in on ourselves like dying stars.
So whenever I feel helpless, I turn to work. And not my own: I seek refuge in movies about women who work hard and get shit done, and that inspires me to do the same. So let's do this.
Hidden Figures
Here's the thing about NASA: it wouldn't be what it is today without the work of pioneering Black scientists and engineers Katherine G. Johnson, Dorothy Vaughan, and Mary Jackson. (Or, the women responsible for launching John Glenn into orbit.) Starring Taraji P. Henson, Octavia Spencer, and Janelle Monáe, Hidden Figures is a rallying cry to get to work because you and your brain could change the world in the face of oppression. And it is a reminder to remember and pay homage to the women whose underappreciated work are the reason we get to do our own today.
Legally Blonde
Elle Woods will show you how valuable she can be. Elle Woods isn't going to let one stupid prick ruin her life. Elle Woods isn't going to throw somebody under the bus just to advance her own career. And Elle Woods is going to prove that your perm wouldn't be intact if you had actually been taking a shower at the time of a murder you claimed not to have committed. (Spoiler.) For too long, I dismissed Legally Blonde and Elle Woods for over-romanticizing a pink and fluffy brand of feminism on par with red carpet photo ops and #SquadGoals Instagram captions. But I was so wrong. It's a tapestry of friendship, determination, and hard work and a masterpiece on par with Elle Woods' Harvard Law application video.
Mulan
If watching a Chinese peasant girl disguise herself as a man to defeat the Huns doesn't make you want to get up and at least answer your godforsaken emails, I can't help you and I don't want to. Despite being a Disney movie, Mulan subverts gender norms AND delivers unto us "Reflection," a song about not feeling like the person you necessarily look like. Bless us everyone.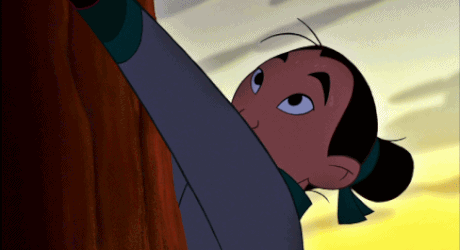 Originally Published March 23, 2017